Why is Viagra So Expensive?
Updated Date: Mar 12th, 2021
If you struggle with erectile dysfunction (male impotence), you've no doubt heard about America's most famous little blue pill, Viagra. Since it was approved by the U.S. Food and Drug Administration (FDA) in 1998 as the first drug for the treatment of erectile dysfunction, Viagra has become one of the most popular prescription drugs of all time, with over 25 million prescriptions written since its release. More than 30 million men in the United States alone suffer from erectile dysfunction, but many are unwilling to seek treatment due to shame and embarrassment about the condition. Prescription medications like Viagra can seem like wonder drugs to affected patients, but if you've ever tried to fill a Viagra prescription, you already know how expensive the medication is. Why is Viagra so expensive and how can you save on your medication?
What is Viagra?
Viagra is used to treat erectile dysfunction and belongs to a family of drugs called PDE-5 inhibitors. The medication first entered the market in 1998 and was sold only in brand name drugs form until the generic version of the medication, sildenafil citrate, was released in December 2017. Viagra is available in 25 mg, 50 mg, and 100 mg strengths, while sildenafil is sold in dosages of 20 mg, 40 mg, 60 mg, 80 mg, and 100 mg.
Why is Viagra so expensive?
Viagra is an extremely costly drug, and in many ways, it defies traditional logic about the prices of prescription drugs. Originally, Viagra prices were high because the medication was the only prescription drug on the market for the treatment of erectile dysfunction. It was until the FDA approval of Cialis in 2003 that Viagra had any competition, so drug prices remained high. However, while increased competition usually means a reduction in drug prices, this has not been the case for Viagra, Levitra, vardenafil, and Cialis. The price of Viagra rose 190 percent between 2012 and 2017, while the price of Cialis rose 187 percent; these represented the largest price increases of any prescription medications. When sildenafil was released as the generic Viagra in 2017, it didn't carry with it all of the perks that normally make generic medications less expensive. Viagra's patent didn't actually expire until April 2020, so the manufacturer approved the release of sildenafil with the provision that the manufacturer would be required to pay the manufacturer of Viagra a royalty for the privilege of marketing the generic drug until the patent ran out. Generic versions of the drug are less expensive than the name brand medication, but the demand for erectile dysfunction drugs (ED drugs) remains extremely high, and as a result, so do the prices. All is not lost, however. Next, we'll address the most common questions about where to Viagra and how to save money on your prescription.
Viagra and Sildenafil | Hims ED Treatment
For over 20 years, Viagra® has helped millions of men with ED feel confident and connected to their partners. Times change. Now men buy genuine Viagra® online through Hims. We'll match you with a physician licensed in your state to evaluate you for all our prescription options, including super-affordable generic Viagra. All this happens in a matter of minutes from the comfort of home, so you can treat ED easily, discreetly, and on your terms.
Can I buy Viagra over the counter?
Viagra is not available over the counter because the drug is not safe for men taking certain medications or who have specific medical conditions. When Viagra is taken by patients with incompatible medications or medical conditions, it can cause serious and potentially fatal side effects, so consultation with a doctor prior to use is required. Patients taking any of the following medications should not take Viagra:
Nitrates
Guanylate cyclase stimulators like Adempas (riociuguat)
When taken with these medications, Viagra can cause a serious and potentially unsafe drop in blood pressure or blood flow.
Other rare side effects associated with Viagra include heart attack, stroke, high blood pressure, irregular heartbeat, heart disease, and death. Although most patients experiencing these side effects had a previous history of heart problems prior to taking the medication, some patients had no prior history. It is unknown if Viagra contributes to existing cardiac issues or if it causes them. Due to the potential for dangerous and more serious side effects in patients taking certain medications or with certain medical conditions, Viagra must be purchased with a prescription.
Can I purchase Viagra online?
If you think purchasing Viagra online can help you save money on the cost of your medication, make sure to proceed with caution. Viagra is an extremely popular medication, and that demand, combined with its high cost and the stigma surrounding erectile dysfunction, means that Viagra is one of the most frequently counterfeited drugs on the market today. Where are most of these counterfeit drugs purchased? You guessed it - online. The manufacturer of Viagra, Pfizer, has actually created a task force with the goal of preventing counterfeit pills from making their way onto the market. If you find Viagra online, proceed with caution; studies and clinical trials show that up to 80 percent of Viagra and sildenafil sold online is counterfeit. Even worse, the counterfeit drugs sold online often contain dangerous ingredients like printer ink, rat poison, methamphetamines, and more. To add insult to injury, the counterfeit medications aren't even effective, as they usually only contain 30 to 50 percent of Viagra's active ingredient. If you do choose to purchase your Viagra online, make sure to do your research and only by the drug through a licensed and accredited pharmacy. Because Viagra cannot be purchased without a prescription, the online pharmacy you choose will need to employ doctors who can prescribe the medication if you have not already obtained a prescription. Remember, if the price seems too good to be true, it probably is!
How can I save money on my prescription?
Buying Viagra online might seem like the best way to save money, but the risks definitely outweigh the rewards. There are many other ways to reduce the costs of your medication. Lower prices for both brand name Viagra and sildenafil have increased since the introduction of the generic form of the drug in December 2017. With Pfizer's patent now expired and more manufacturers producing the generic version of the medication, prices for sildenafil have dropped as low as four dollars per pill.
Purchasing the generic form of Viagra will help you save about 90 percent on the cost of your medication, so try to use the generic medication unless your doctor indicates that you need the brand name form of the drug. Price hikes are subject to fluctuation based on supply and demand and occasional stock shortages. Additional discounts may be offered for prescriptions purchased as a 90-day supply; however, this option is not available for all medication dosages.
Insurance Coverage
Before sildenafil was released in December 2017, Viagra was not covered by the majority of Medicare and insurance plans. Thanks for drugmakers and a pharmaceutical company, brand name Viagra still does not receive coverage on most insurance plans, but generic sildenafil receives coverage from most Medicare and insurance plans. If you are fortunate enough to have health insurance, it makes sense to check with your insurance company to find out the price of your prescription, but don't stop there. You should also check the cash price, look for coupons, research patient assistance programs, or use a pharmacy discount card, as you may find the medication for even less.
Coupons and Rebates
With the popularity of Viagra and the length of time that the medication has been on the market, it is rare to find coupons or rebates for the drug. Manufacturers do occasionally offer coupons or reduced copays for the brand name version of the medication, but these benefits rarely extend to the generic forms of the drug. If you are interested in trying to find a coupon for Viagra, talk to your doctor to find out if they know of any existing discounts or coupon codes that may be available. Doctors often have the inside scoop, as drug reps sometimes provide coupons with the samples that they give to your doctor. If your healthcare professional is not aware of any coupons or rebates, try looking online. Many coupons and rebates can be printed directly from the drug manufacturer's website, while others may require registering online and activating a coupon card or completing a questionnaire. For Viagra specifically, you'll want to visit the medication's official website to check and see if any assistance is available.
Hims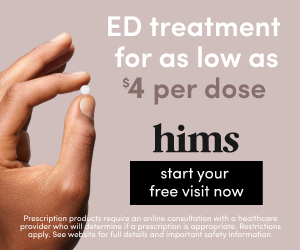 Viagra or Sildenafil - $4/pill
Get ED meds online, shipped to you.

✔️FDA-approved ED pills

✔️Generics 90% cheaper than brand name

✔️100% online, discreet delivery

✔️No waiting weeks for an appointment
Rex MD
Viagra or Sildenafil - $2/pill
E.D. meds prescribed & shipped discreetly to you.
Free & private online visit.

✔️Results with one pill
✔️Real doctors
✔️Discreet packaging and Free/Fast Shipping
✔️Personalized plans
Retail Pharmacy
Viagra or Sildenafil - $10/pill
Search prices at your local pharmacy with USA Rx
✔️Search online and retail pharmacy locations
✔️Free coupon to use at your pharmacy
✔️Unlimited use, no registration needed
✔️Accepted at over 60,000 pharmacies (CVS, RiteAid, Wal-Mart, Walgreens)
Patient Assistance Programs
Patient assistance programs are programs that provide free or discounted medications to low income, uninsured, or under-insured people who may not be otherwise able to afford them. These programs are usually sponsored by drug manufacturers and often come with a set of eligibility criteria which may include limits on the type of insurance held, the amount of income earned each year, and the underlying men's health condition being treated by the medication. Medicare and Medicaid recipients are generally not eligible for these programs, but all patient assistance programs have varying criteria and may or may not allow coverage by a commercial insurance firm. Patient assistance programs can be available for a specific period of time (such as six months), for the life of the prescription, for new prescriptions only, or for patients taking the medication on a long-term basis.
Sources:
https://www.healthline.com/health/how-common-is-ed
https://www.whoised.com/erectile-dysfunction/why-is-viagra-still-so-expensive/
https://www.cnbc.com/2019/05/31/the-drugs-with-biggest-price-surge-are-for-erectile-dysfunction-study.html
https://www.drugs.com/viagra.html
View Printer Friendly Version
Instant Offer from a USA Rx Partner