Is Viagra Covered by Insurance?
Updated Date: Jun 16th, 2022
The late 90s saw the introduction of a medication that would not only change the lives of millions of men around the world, it also became a fixture in popular culture as the "little blue pill."
Viagra was first approved by the U.S. Food and Drug Administration (FDA) in 1998, and since then, it has become America's most popular erectile dysfunction (male impotence) drug.
Since its release over 20 years ago, Viagra has become a major player in the world of pharmaceuticals, with over 25 million prescriptions written.
Erectile dysfunction is a relatively common, but embarrassing, condition affecting more than 30 million men in the United States alone, many of whom do not seek treatment due to shame or concerns about cost.
While it might seem tempting to track down the drug through other means than your healthcare professional, you might be surprised by the answer to the question, "Is Viagra covered by insurance?
What Is Viagra?
Viagra is an erectile dysfunction drug that belongs to a family of medications called PDE-5 inhibitors.
Viagra was introduced in 1998 and was sold exclusively under its brand name until December 2017, when a generic form of the medication, called sildenafil citrate, was released.
Because Viagra was only sold under the brand name version of the medication for so many years, many people believe that the medication is prohibitively expensive and is not covered by insurance.
However, the release of the generic drug has helped change the availability.
Viagra is available in 25 mg, 50 mg, and 100 mg strengths, while sildenafil is sold in dosages of 20 mg, 40 mg, 60 mg, 80 mg, and 100 mg.
There are also other medications like Cialis, Levitra, Revatio, Tadalafil, and Vardenafil that treat ED.
Viagra and Sildenafil | Rex MD ED Treatment
Welcome to Rex MD. We offer both branded and generic forms of Viagra (Sildenafil), Cialis (Tadalafil), and Levitra. Our healthcare professionals on the Rex MD platform are ready to recommend a treatment plan they believe will be most effective based on your symptoms and goals. You can also let your clinician know any preferences you have and it will be taken into consideration.
Start your free online visit to see if prescription ED treatment is right for you.
What Is Erectile Dysfunction and What Causes It?
There are many misconceptions about erectile dysfunction, and the shame associated with the condition often prevents men and women from learning more about what causes it.
Erectile dysfunction, or male impotence, is a form of sexual dysfunction associated with difficulty getting and/or keeping an erection in the penis due to limited blood flow and low blood pressure to the penis and decreased sexual stimulation or sexual activity.
Researchers recognize that the body needs three things to have an erection: good blood flow, a functioning brain, and adequate hormone levels.
That means that there can be many different causes of erectile dysfunction, including physical causes, lifestyle causes, psychological causes, or a combination of all of the above, which is one of the reasons that erectile dysfunction is so difficult to treat.
The most common physical causes of erectile dysfunction are atherosclerosis (clogged arteries), diabetes, high blood pressure, high cholesterol, and obesity. Alcohol abuse, illegal drug use, smoking, common side effects of other prescription medications (including those used to high blood pressure, heart conditions or heart disease, and depression), and side effects of over-the-counter medications such as antihistamines and Sudafed are the most common lifestyle causes of erectile dysfunction.
Psychological causes of erectile dysfunction include depression, stress, and anxiety.
Fortunately, there is a lot that men can do to help prevent or reverse erectile dysfunction. Simple lifestyle issues can be changed to improve your health, for example:
Drinking less alcohol
Quitting smoking
Reducing stress in your daily life
Increasing your exercise
Managing your weight
PDE-5 inhibitors like Viagra work by inhibiting a natural chemical (PDE-5) that causes blood to flow out of an erect penis.
However, PDE-5 isn't the only thing that determines the length of an erection.
Your heart, blood vessels, hormones, nerves, and mood all work together to cause an erection, which means that issues with any of these areas can cause erectile dysfunction.
When an erection occurs, a chemical called cGMP causes the tissues and muscles in the penis to relax, allowing blood to flow in.
The blood volume can be up to eight times the amount that is in a flaccid penis.
The blood gets trapped, and under normal circumstances, eventually released, allowing the erection to subside and blood flow to return to normal.
PDE-5 is a chemical that causes the breakdown of cGMP, and Viagra works by blocking it.
When the active ingredient in Viagra is used to inhibit PDE-5, the cGMP does not get broken down and the tissues in the penis stay relaxed and engorged with blood, allowing you to keep an erection.
Can I Buy Viagra Over the Counter?
Hoping to skip the urologist's office and pick up some Viagra at the local pharmacy? Unfortunately, that's not possible.
Viagra is not available over the counter because the medication may not be safe for men with certain medical conditions or those who take certain medications, including medications called nitrates, which are often prescribed for chest pain, or guanylate cyclase stimulators such as Adempas (riociuguat) for pulmonary arterial hypertension.
Interactions between Viagra and these medications or medical conditions can cause a serious and potentially unsafe drop in blood pressure or blood flow, among other serious side effects.
Although rare, serious side effects including heart attack, stroke, irregular heartbeat, heart disease, high blood pressure, and death have occurred in men taking Viagra, so it is critical that patients communicate with their doctors regarding their medical history. Although many patients experiencing these side effects had a history of cardiac health issues, not all patients had a prior history.
It is still unknown whether Viagra can cause or contribute to the possibility of experiencing cardiac issues.
Due to the potential for dangerous and more serious side effects in patients taking certain medications or with certain medical conditions, Viagra cannot be purchased over the counter.
Is Viagra Available Without a Prescription?
If you're in the United States and you see Viagra being advertised as available without a prescription, run in the opposite direction.
Viagra is not legally available in the United States without a prescription, but a system does exist in the United Kingdom for approval of certain patients without a doctor's visit.
Under this system, patients with a suitable medical and sexual health history may purchase Viagra with the approval of a pharmacy staff member or healthcare provider.
However, the option is limited to certain pharmacies and is not widely available. For the most part, Viagra that is advertised as available without a prescription is counterfeit and being sold illegally.
You might come across websites offering Viagra for sale, but make sure you do your research prior to purchasing. Viagra is one of the most frequently counterfeited drugs in the world because of its popularity, formulary, cost, and the stigma surrounding erectile dysfunction.
The original manufacturer of the medication, Pfizer, actually created a task force to stop counterfeiters when studies showed that up to 80 percent of Viagra and its generic form, sildenafil, sold online is counterfeit. In addition to being ineffective, counterfeit drugs sold online can also be dangerous because ingredients like rat poison, methamphetamines, printer ink, and more often make their way into the product.
However, there are some licensed and accredited online pharmacies that do sell Viagra legally over the internet, but you will still need a prescription.
If you want to avoid visiting a doctor's office, you will need to work with an online pharmacy that employs doctors who will be able to prescribe the medication if you have not already obtained a prescription.
Some online pharmacies offer the option to consult with a doctor online without a face to face discussion. In these cases, you'll need to fill out a questionnaire and possibly answer some follow up questions. Remember, if the price seems too good to be true, it probably is!
Where Can Viagra Be Purchased Online?
If you're committed to purchasing Viagra online, make sure you do your research first and find out the cost of the medication through a brick and mortar pharmacy.
This way, you'll know the approximate cost of the medication and know when an offer is too good to be true, making it likely counterfeit.
Cost should never be your number one concern when ordering Viagra due to the rampant counterfeiting that goes on with the drug. Unfortunately, finding an online pharmacy that is reputable can be tricky.
The National Association of Boards of Pharmacy (NABP) gives a rating of "not recommended" to 97 percent of the websites currently selling prescription drugs because they do not meet the criteria for online pharmacies.
The NABP operates a website that allows you to check and see if your online pharmacy is legitimate and safe or not, so checking the URL there before you buy is a must-do.
Hims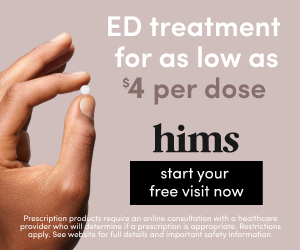 Viagra or Sildenafil - $4/pill
Get ED meds online, shipped to you.

??FDA-approved ED pills

??Generics 90% cheaper than brand name

??100% online, discreet delivery

??No waiting weeks for an appointment
Rex MD
Viagra or Sildenafil - $2/pill
E.D. meds prescribed & shipped discreetly to you.
Free & private online visit.

??Results with one pill
??Real doctors
??Discreet packaging and Free/Fast Shipping
??Personalized plans
Retail Pharmacy
Viagra or Sildenafil - $10/pill
Search prices at your local pharmacy with USA Rx
??Search online and retail pharmacy locations
??Free coupon to use at your pharmacy
??Unlimited use, no registration needed
??Accepted at over 60,000 pharmacies (CVS, RiteAid, Wal-Mart, Walgreens)
Is Viagra Covered by Health Insurance?
Viagra, in its brand name form, is not covered on insurance plans from most insurance companies.
However, since the release of the generic version of the drug, sildenafil, in 2017, the majority of Medicare coverage and health plans now offer insurance coverage for it under their prescription drug coverage.
While many people assume that insurance will provide the lowest price for your medication through your copayment, that's not always the case.
There are many other ways to save money on your Viagra prescription and other drug costs, including checking the cash price, looking for coupons, researching patient assistance programs, or using a pharmacy discount card, as you may find the medication for even less.
How Can I Save Money on My Prescription?
With or without insurance, there are many different ways to save money on your Viagra prescription.
The release of the generic version of the drug in December 2017 resulted in a major drop in price for both the brand-name drug and generic Viagra. When only the brand name version of Viagra was available, the cost per pill was approximately 60 dollars, putting it out of the reach of many men who needed it.
The launch of sildenafil immediately cut the price of the drug in half, and as more manufacturers have begun producing sildenafil, prices have dropped as low as four dollars per pill.
Purchasing the generic form of Viagra can save you about 90 percent of the cost of your medication on most drug plans. Prices are subject to fluctuation based on supply and demand and occasional stock shortages.
The table reflects cash prices, which are not valid when combined with coinsurance. Additional discounts may be offered for ED drugs purchased as a 90-day supply; however, this option is not available for all medication dosages.
While purchasing the generic form of medication can save you big bucks on the cash price of the drug, coupons, and rebates usually do not apply to the generic medication.
However, it is sometimes possible to find coupons or reduced copays on the brand name form of the medication from the manufacturer; in this case, you might find coupons for Viagra from Pfizer.
Ask your doctor if they are aware of any existing discounts or coupon codes that may be available, as sometimes these offers are extended upon receipt of a sample from your doctor's office.
If they don't know of any available offers or promotions, try searching online. Some offers are available directly from a website and can be easily printed off, while others may require registering online and activating a coupon card or completing a questionnaire.
For Viagra specifically, you'll want to visit the medication's official website to check and see if any assistance is available.
Patient Assistance Programs
Low income, uninsured, or under-insured individuals may receive help paying for their medications in the form of patient assistance programs.
In order to be eligible for the programs, patients must meet a certain set of criteria, which may include limits on the type of insurance held, the amount of income earned each year, and the underlying health condition being treated by the medication.
In many cases, individuals who are covered by Medicare plans and/or Medicaid services are not eligible for these programs.
Patient assistance programs have varying criteria and may or may not allow coverage by a commercial insurance firm.
Patient assistance programs can be available for a specific period of time (such as six months), for the life of the prescription, for new prescriptions only, or for patients taking the medication on a long-term basis. It is recommended to check the manufacturer's website to search for patient assistance programs prior to visiting your pharmacy.
View Printer Friendly Version
Instant Offer from a USA Rx Partner