How Much Sildenafil is Too Much? Maximum Dosage and Safety
Updated Date: Jun 14th, 2022
Men who are suffering from erectile dysfunction have more options than ever before to treat the condition.
While Viagra was the first approved prescription medication for the treatment of erectile dysfunction in 1998, the medication's demand, popularity, and novelty made the price out of reach for many, partially contributing to the development of other prescription drugs for sexual stimulation such as tadalafil (Cialis) and vardenafil (Levitra).
Since 2017, sildenafil citrate, the generic form of Viagra, has been available for the treatment of erectile dysfunction.
If you're considering treatment with sildenafil, you might be wondering how much sildenafil is too much and what the maximum dosage and safety concerns might be.
What is sildenafil?
Sildenafil is the generic form of Viagra which is the brand name manufactured by Pfizer.
Sildenafil is sold under two brand names (Viagra and Revatio, which is used for the treatment of high blood pressure and pulmonary arterial hypertension).
The drug was first approved by the U.S. Food and Drug Administration (FDA) in December 2017 after the original manufacturer's patent ran out, though this drug is still not (and likely will not become) available over-the-counter since certain contraindications need to be screened for by a healthcare provider for patient safety.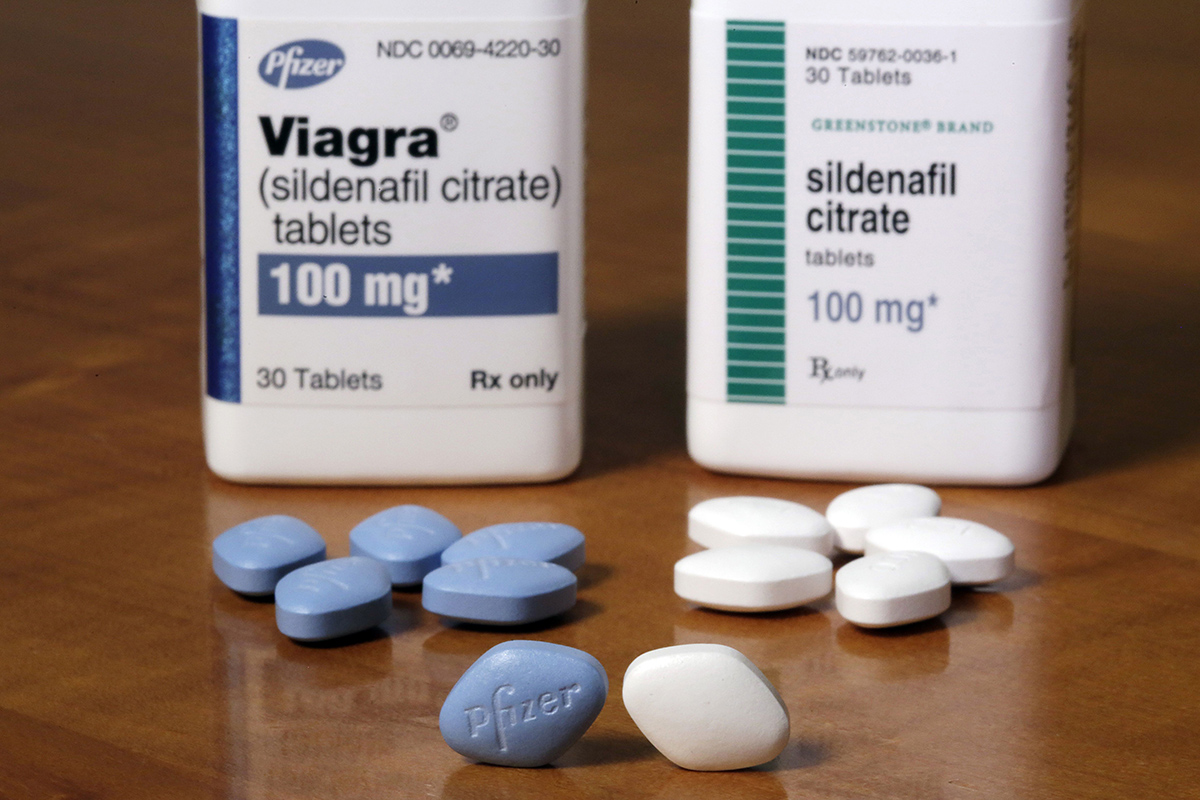 What is erectile dysfunction and what causes it?
Erectile dysfunction, also known as male impotence, is a health condition in which men are unable to get and/or keep an erection that is hard enough for sexual activity.
It happens when not enough blood flows to the penis, preventing an erection.
Erectile dysfunction is extremely common, affecting approximately 30 million men in the U.S.
While some people with the condition only experience erectile dysfunction occasionally, others deal with the issue every time they try to have sex.
There are a variety of reasons why men experience erectile dysfunction, including medical conditions, lifestyle factors, and psychological issues.
Some of the most common medical conditions known to contribute to erectile dysfunction include depression, diabetes, heart disease, high blood pressure, high cholesterol, obesity, prostate cancer treatment, and spinal cord injury.
Lifestyle and psychological factors, such as smoking, drinking, and stress, can also contribute to erectile dysfunction.
The use of certain medications, including those used to treat high blood pressure, heart disease, and depression, can also cause erectile dysfunction.
Erectile dysfunction can often be improved or prevented by making lifestyle changes. Patients who are hoping to improve their circulation without medication can try the following:
Finding more ways to stay active
Quitting smoking
Reducing stress in your daily life
Managing your weight by eating whole foods and reducing portion sizes
How does sildenafil treat erectile dysfunction?
In the most general terms, sildenafil works by increasing blood flow to the penis by allowing the muscles of the penis to stay relaxed for longer, helping to trap blood in the blood vessels and maintain an erection that is hard enough for sexual intercourse.
Sildenafil can also help with painful erections, especially those caused by Peyronie's disease.
Image
Product
Features
Price

$4/Pill

Sildenafil | Hims

FDA-approved ED pills
FREE online consultation
Discreet shipping
No waiting weeks for an appointment

Buy Now

$2/Sample Pack

Sildenafil | Rex MD

Sample Packs Available
FREE online consultation
Discreet shipping
Personalized Plans

Buy Now

$20 Discount

Sildenafil Chews | BlueChew

Rx-only chewable tablet
FREE online consultation
Discreet shipping
Monthly refills

Buy Now

Retail Pharmacies

Sildenafil | USA Rx Coupons

Search all men's health ED Meds
Find online pharmacy offers and retail pharmacy discounts
Free to use, Unlimited use
Instant quotes and transparency

Search Prices
How much sildenafil is too much?
Patients are prescribed sildenafil at varying dosages depending on the severity of their condition, age, medical history, and weight.
Sildenafil tablets typically come in 20 mg dosages, and patients requiring a higher dose of the medication simply take multiple tablets.
The lowest prescribed dose of sildenafil is 20 mg, while the highest recommended dose of sildenafil is 100 mg.
As noted previously, sildenafil is also used to treat high blood pressure and pulmonary atrial hypertension, and was originally developed for the treatment of angina as a phosphodiesterase type 5 inhibitor (PDE5 inhibitor).
These conditions are generally treated with a 20 mg dose of sildenafil, while erectile dysfunction is treated with dosages ranging from 20 to 100 mg.
The average starting dose of sildenafil is 50 mg for most men.
Your doctor may start you at a dose higher or lower than this initially based on your needs.
However, it should be noted that taking more sildenafil won't necessarily make your erection any harder or make it last any longer.
Men are recommended to take the minimum dose that meets their needs.
While the maximum dose of sildenafil is 100 mg, many men find that a lower dose provides the treatment they need.
Taking a higher dose of sildenafil will increase your risk of experiencing side effects, including side effects that are potentially dangerous. Patients should never take more than 100 mg of sildenafil within 24 hours.
Viagra and Sildenafil | Rex MD ED Treatment
Welcome to Rex MD. We offer both branded and generic forms of Viagra (Sildenafil), Cialis (Tadalafil), and Levitra. Our healthcare professionals on the Rex MD platform are ready to recommend a treatment plan they believe will be most effective based on your symptoms and goals. You can also let your clinician know any preferences you have and it will be taken into consideration.
Start your free online visit to see if prescription ED treatment is right for you.
Are there any side effects associated with sildenafil?
Like any medication, there are side effects associated with the use of sildenafil.
Side effects are more likely to occur in people who have difficulty processing sildenafil and in people who take sildenafil at higher doses. The side effects most commonly associated with sildenafil are:
Headache
Heartburn
Difficulty falling asleep or staying asleep
Numbness, burning, or tingling in the arms, hands, feet, or legs
Diarrhea
Facial flushing (feeling of warmth)
Nosebleeds
Nasal congestion
Muscle aches
Sensitivity to light
Other rarely reported, but serious, side effects requiring you seek immediate medical advice include:
Priapism - erections lasting longer than four hours
Sudden vision loss in one or both eyes, which is a symptom of a serious eye problem called non-arteric anterior ischemic optic neuropathy (NAION)
Chest pain (angina)
Worsening shortness of breath
Itching or burning during urination
Sudden hearing decrease, hearing loss, or ringing in the ears
Prolonged blurred vision
Dizziness or lightheadedness
Fainting
Heart attack
Stroke
Irregular heartbeat
Rash
Bleeding in the brain or lungs
High blood pressure
Death
Are there any safety concerns associated with sildenafil?
Sildenafil is generally considered safe in people who have an appropriate medical history and receive their doctor's approval for the drug.
However, some people should not take sildenafil at all and others will be prone to a higher risk of dangerous side effects.
Sildenafil interacts dangerously with certain medications, including poppers inhalant nitrates like nitroglycerin, isosorbide nitrate, and amyl nitrate, which are often prescribed for chest pain, and guanylate cyclase stimulators such as Adempas (riociguat) for pulmonary hypertension.
Individuals taking these medications could experience an unsafe drop in blood pressure if taking sildenafil, so sildenafil use is not recommended for these groups.
Additionally, people who are allergic to sildenafil or any of its ingredients should not take the medication.
People with a previous history of heart problems are more likely to experience dangerous side effects when taking sildenafil.
Rare side effects such as heart attack, stroke, irregular heartbeat, and death have occurred in some men while using the medication.
Although these side effects are more common in patients who had a previous history of heart problems prior to taking the drug, patients with no history of heart problems have also experienced these side effects.
More research is needed in order to determine whether sildenafil causes or contributes to the possibility of experiencing heart attack, stroke, irregular heartbeat, and death.
Regardless, men with a history of heart problems or those with a high risk of experiencing heart issues should talk to their doctors about their medical history prior to taking sildenafil.
Is there a difference between Viagra and sildenafil?
Although sildenafil is associated with numerous side effects and warnings for use, there are many benefits to using the drug, and sildenafil is one of the most popular medications in the world for a reason.
Sildenafil provides relief from a number of medical conditions, including high blood pressure, pulmonary hypertension, Raynaud's Phenomenon, and erectile dysfunction.
Sildenafil is equally effective compared to Viagra, but it is available at a fraction of the cost.
Some patients are wary about using generic drugs due to quality concerns and a lack of understanding about the effectiveness of the ingredients found in generic drugs.
After all, there is a huge difference in the price of Viagra compared to sildenafil. How is that possible?
Generic medications like sildenafil undergo the same rigorous quality testing and standards that brand name medications like Viagra do, and they are approved by the U.S. Food and Drug Administration.
Generic drugs use the same active ingredients in the same quantities as the brand name medication and must be shown to be equally effective.
The only real differences between the generic and brand name drugs are some of the inactive ingredients (ingredients that do not affect treatment) and cosmetic details like color, shape, and size of the medication.
Generic drugs are less expensive because they can be produced by a number of different manufacturers, which drives the price down as a result of competition, and because the brand name drug manufacturer needs to recoup advertising and research and development costs that the generic manufacturers do not.
Summary
Sildenafil is an effective treatment option for men suffering from erectile dysfunction.
The maximum dose of sildenafil is 100 mg, but many men find that the medication can effectively treat their condition at a lower dose.
At higher doses, men are more likely to experience common side effects like headache and heartburn as well as rare but serious side effects like heart attack, stroke, and irregular heartbeat.
Men with a history of heart problems or those taking certain medications may not be able to take sildenafil safely.
Sources:
https://pubmed.ncbi.nlm.nih.gov/19817982/
https://www.mayoclinic.org/diseases-conditions/erectile-dysfunction/symptoms-causes/syc-20355776
View Printer Friendly Version
Instant Offer from a USA Rx Partner