Buy Viagra Online: Best Online Sources for Viagra
Updated Date: Jun 16th, 2022
Erectile dysfunction affects more than 30 million men in the United States, but experiencing the condition can feel very lonely as a result of the shame and embarrassment that often affects sufferers.
Viagra, the first medication approved by the U.S. Food and Drug Administration (FDA), became available in the United States in 1998.
However, many men resist getting treatment for erectile dysfunction because they are too embarrassed to speak to their doctor about their symptoms.
While Viagra is only available with a prescription, it is possible to buy sildenafil from online pharmacies and telehealth services, and avoid a potentially embarrassing trip to the doctor's office or local pharmacy.
We've put together a list of the best online sources for Viagra, which is also sold under the generic name of sildenafil.
Sildenafil citrate is best known as the generic form of Pfizer's Viagra, but it is also sold under the brand name Revatio.
When sold as Viagra, sildenafil is used to treat ; when marketed as Revatio, the prescription drug is used to treat high blood pressure and pulmonary arterial hypertension.
Sildenafil first became available in December 2017 when the original manufacturer's patent for Viagra ran out, allowing other manufacturers to produce a generic version of the drug.
Due to the increased availability and the number of different manufacturers, it is much cheaper to buy generic sildenafil than Viagra, with the generic working exactly the same way and being equally effective to the famous little blue pill.
Sildenafil is primarily given in doses of 20 mg, 40 mg, 60 mg, 80 mg, or 100 mg, depending on the patient and on the condition being treated.
Hims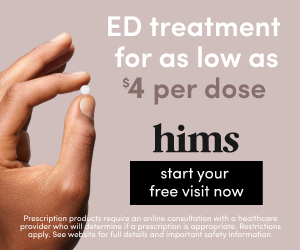 Viagra or Sildenafil - $4/pill
Get ED meds online, shipped to you.

??FDA-approved ED pills

??Generics 90% cheaper than brand name

??100% online, discreet delivery

??No waiting weeks for an appointment
Rex MD
Viagra or Sildenafil - $2/pill
E.D. meds prescribed & shipped discreetly to you.
Free & private online visit.

??Results with one pill
??Real doctors
??Discreet packaging and Free/Fast Shipping
??Personalized plans
Retail Pharmacy
Viagra or Sildenafil - $10/pill
Search prices at your local pharmacy with USA Rx
??Search online and retail pharmacy locations
??Free coupon to use at your pharmacy
??Unlimited use, no registration needed
??Accepted at over 60,000 pharmacies (CVS, RiteAid, Wal-Mart, Walgreens)
How do I use Viagra to treat sexual dysfunction?
Sildenafil (Generic Viagra) works differently than many other prescription medications.
Rather than taking the medication daily in the morning or at night, sildenafil is taken 30 to 60 minutes prior to sexual activity, although it can be taken up to four hours before sex.
The medication should not be taken more than once every 24 hours, but some patients may not be able to take the medication that often due to their medical history.
Sildenafil can be taken with or without food, but it works more slowly if it is consumed around the same time as a high-fat meal, as the digestion of fat delays the effects of the medication.
Are there any side effects associated with Viagra?
Like any medication, there are some common side effects of Viagra and its generic forms.
The side effects most commonly associated with sildenafil are:
Headache
Flushing (feeling of warmth)
Muscle aches
Upset stomach
Sensitivity to light
Nosebleeds
Heartburn
Diarrhea
Difficulty falling asleep or staying asleep
Numbness, burning, or tingling in the arms, hands, feet, or legs
Other rarely reported, but serious, side effects requiring immediate medical attention include:
Priapism - erections lasting longer than four hours
Sudden vision loss in one or both eyes, which is a symptom of a serious eye problem called non-arteric anterior ischesmic optic neuropathy (NAION)
Chest pain
Worsening shortness of breath
Itching or burning during urination
Rash
Bleeding in the brain or lungs
High blood pressure
Heart attack
Sudden hearing decrease, hearing loss, or ringing in the ears
Dizziness or lightheadedness
Fainting
Stroke
Irregular heartbeat
Death
Who should not take Viagra?
Sildenafil (Generic Viagra) is sold by prescription only and is not available over the counter because it can be dangerous for some groups of people with certain medical conditions, and others may be prone to a higher risk of experiencing serious side effects.
People taking medications called nitrates, which are often prescribed for chest pain, or guanylate cyclase stimulators such as Adempas (riociuguat) for pulmonary hypertension, could experience an unsafe drop in blood pressure if taking sildenafil and should not use the medication. Additionally, people who are allergic to sildenafil or any of its ingredients should not take the medication.
Sildenafil can cause cardiovascular side effects including heart attack, stroke, irregular heartbeat, and death.
These side effects are rare and typically occur in patients who had a previous history of heart problems prior to taking the medication, so patients with a history of heart problems or who are at high risk of experiencing heart problems should talk to their doctor about their medical history before taking sildenafil.
Viagra and Sildenafil | Rex MD ED Treatment
Welcome to Rex MD. We offer both branded and generic forms of Viagra (Sildenafil), Cialis (Tadalafil), and Levitra. Our healthcare professionals on the Rex MD platform are ready to recommend a treatment plan they believe will be most effective based on your symptoms and goals. You can also let your clinician know any preferences you have and it will be taken into consideration.
Start your free online visit to see if prescription ED treatment is right for you.
Although sildenafil and Viagra is sold by prescription only, the topic of erectile dysfunction is difficult for many men to talk about with their doctors.
Additionally, finding the time to go to the doctor's office is a hassle.
Recognizing this issue, several online services have popped up in recent years that make consulting with a healthcare provider easier, more private, and more convenient. It's now easier than ever to purchase genuine sildenafil online.
Hims
Hims is a men's healthcare and personal wellness company with the goal of making it easier for men to take care of their health.
To sign up for Hims, patients create a profile online that includes information about their medical history, symptoms, general health, and lifestyle.
To verify their identity and ensure that your doctor is treating the right person, patients must also supply a government-issued ID card, like a driver's license, and a credit card, all of which are stored on a secured, encrypted platform.
Viagra and Sildenafil | Hims ED Treatment
For over 20 years, Viagra® has helped millions of men with ED feel confident and connected to their partners. Times change. Now men buy genuine Viagra® online through Hims. We'll match you with a physician licensed in your state to evaluate you for all our prescription options, including super-affordable generic Viagra. All this happens in a matter of minutes from the comfort of home, so you can treat ED easily, discreetly, and on your terms.
Once your profile has been created, patients are connected virtually with a licensed healthcare provider in their state.
Some states require a video consultation, while others do not. Your healthcare provider will discuss your medical history, symptoms, diagnosis, and treatment options with you.
If your doctor feels that you can safely take medication to treat your erectile dysfunction, they will write you a prescription and your medications will be shipped to you discretely by mail.
Each dose comes either individually wrapped or in a bottle, depending on the medication that is prescribed.
Hims makes it easy to purchase sildenafil or Viagra online and save money.
You don't have to waste your time driving to the doctor's office, and there is no copay.
Patients can be assured that their information is confidential and that they will receive genuine Viagra or its generic equivalent, sildenafil, if you choose.
Due to the popularity and high cost of Viagra, Viagra and other erectile dysfunction medications are among the most commonly counterfeited drugs on the market.
These counterfeit Viagra drugs can be ineffective at best and potentially dangerous at worst, so finding an online source you can trust, like Hims, is of the utmost importance.
Sildenafil is available from a cost of four dollars per use through Hims, compared to Viagra, which starts at a cost of 70 dollars per use.
BlueChew
BlueChew, another reputable online resource for erectile dysfunction medications, offers treatment for men who cannot tolerate commercially available pills like Viagra and Cialis. The company also solves the problem of the inconvenience of in-person doctor's appointments by providing a telehealth consultation for patients who want to improve their chance of achieving erection.
Viagra and Sildenafil | BlueChew ED Treatment
Bluechew offers you the same active ingredients as in Viagra™ (sildenafil) and Cialis™ (tadalafil) for a fraction of the price, in a chewable form! Prescribed online and shipped to your door. Cancel Anytime. No Gimmicks. No lock-in
$20/coupon applied.
Free month covers the Active plan, a $20 value. Shipping not included.
One of the things that sets BlueChew apart from other online men's health providers is that the company focuses solely on treatments for erectile dysfunction and creates compounded treatments that use only FDA-approved active ingredients of sildenafil or sildenafil but are uniquely suited to each patient's needs.
That means that patients receive a dose of the medication that is appropriate for them and their medical history rather than the same standard commercially available formula.
The company also offers a number of different monthly subscription options ranging from six to 34 tablets of sildenafil per month in a strength of either 30 or 45 mg.
Like other telehealth providers, BlueChew requires that patients upload a photo that shows both their face and their government-issued ID in order to confirm their identity before matching you with a licensed healthcare provider in your state.
As with other telehealth providers, some patients will have to video chat with a doctor to meet their state's requirements, while others may be able to have their entire consultation done by answering questions virtually. Regardless of how your consultation is done, you'll never have to leave your home.
If your healthcare provider determines that you need a prescription, they will write one for you. Patients then have the option of choosing to have BlueChew fulfill the prescription or taking the prescription to the compounding pharmacy of their choice.
BlueChew offers sildenafil at a number of different price points depending on a patient's individual needs. A patient can receive six chewable tablets of sildenafil for as little as 20 dollars per month, depending on the dose, or 34 chewable tablets for as little as 90 dollars per month. The medication is refilled monthly and is shipped discreetly.
Image
Product
Features
Price

$4/Pill

Sildenafil | Hims

FDA-approved ED pills
FREE online consultation
Discreet shipping
No waiting weeks for an appointment

Buy Now

$2/Sample Pack

Sildenafil | Rex MD

Sample Packs Available
FREE online consultation
Discreet shipping
Personalized Plans

Buy Now

$20 Discount

Sildenafil Chews | BlueChew

Rx-only chewable tablet
FREE online consultation
Discreet shipping
Monthly refills

Buy Now

Retail Pharmacies

Sildenafil | USA Rx Coupons

Search all men's health ED Meds
Find online pharmacy offers and retail pharmacy discounts
Free to use, Unlimited use
Instant quotes and transparency

Search Prices
Buy Viagra Online
Men's telehealth providers like Hims, BlueChew, Huge, and HealthyMale make it easy to get convenient, affordable treatment for erectile dysfunction right online.
Patients are able to connect virtually with licensed healthcare providers who can write a prescription and ship genuine sildenafil and Viagra prescriptions directly to your home.
Sources:
https://medlineplus.gov/druginfo/meds/a699015.html
https://www.webmd.com/drugs/2/drug-7418/sildenafil-oral/details
https://www.mayoclinic.org/drugs-supplements/sildenafil-oral-route/side-effects/drg-20066989?p=1
View Printer Friendly Version
Instant Offer from a USA Rx Partner